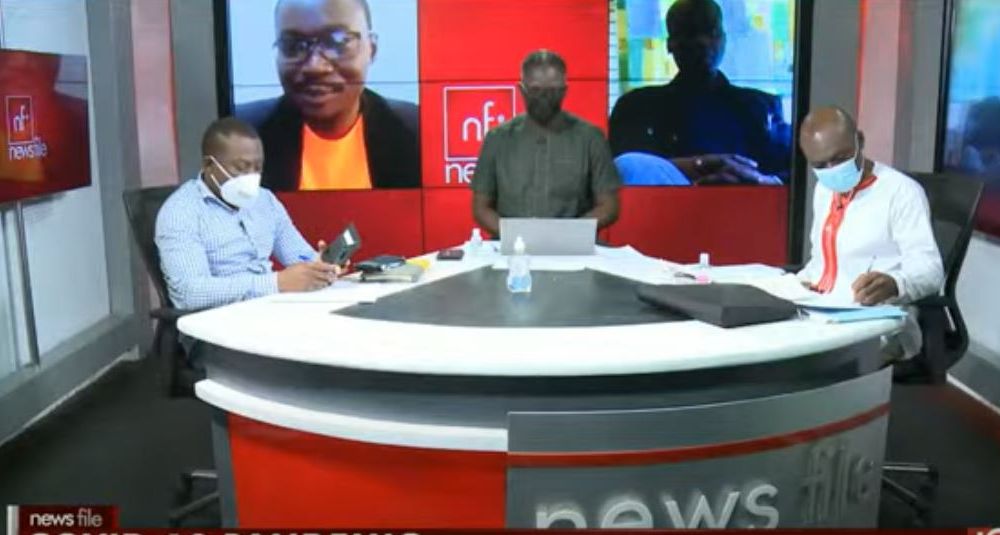 Newsfile, your most authoritative news analysis platform, Saturday discussed two issues.
These are; Covid-19: Third-wave scare and probe into the procurement of Sputnik V vaccines and cost of presidential travels and matters arising.
The discussants were Private Legal Practitioner, Martin Kpebu, General Secretary of the Ghana Medical Association, Dr Justice Yankson, Prof Ransford Gyampo, a Political Science Lecturer at the University of Ghana and Dr. Michael Owusu -Virologist, Kumasi Centre for Collaborative Research into Tropical Medicine (KCCR), Kumasi & Lecturer, Department of Medical Diagnostics, KNUST.
As usual, it was three hours of a no hold bar discussion. When two Lawyers, two PHDs and two Medical Practitioners engage in a public discourse on public interest issues, some lessons will definitely be learnt.
Here are six of them.
Third wave of Covid-19 is here
Our elders say if the frog comes out of the river to announce the death of the crocodile, believe it. Dr. Yankson is a medical practitioner and General Secretary of the Ghana Medical Association. If he says the third wave of Covid-19 has hit Ghana, what do you say?
"I might not be clothed with the powers to pronounce the third wave but the truth is that we are in a third wave. I think we should not kid ourselves that maybe it's about coming in. It is here. We haven't reached the peak but the wave has started.
Intensive Care Units (ICU) in various health institutions are getting choked with the country experiencing a surge in cases. We stopped counting the deaths because we know it will happen. People are dying in transit. If you go to Korle-Bu, not long ago, the clinics were not seeing cases, but now we are struggling to find ICU places for cases.
If you go to the Police Hospital the ICU is full and nearly choked. If you go to Ridge, the same. If you go to Ashanti Region the same."
Delta strain is 200 times more lethal than Wuhan strain
If you do not believe the Doctor, what about the Pharmacist and Fellow at the Ghana Centre for Democratic Development (CDD-Ghana), Dr Kwame Sarpong Asiedu, who seems to have in-depth global knowledge on the Covid-19 pandemic?
"When it first came into the country in March of 2020 we had predominantly the Wuhan strain and the strain from Europe. That had the reproductive number from anywhere between 2.4 and 3. So then we had our peak like we said, and then it started dropping.
And then we had a bit of bulk in October, but it looks like the protocols kicked in again and it didn't give us another wave. Then, in December, we had another surge which gave us a bulk of all our mortalities since Covid-19 came to Ghana.
That was driven by the alpha strain that had a reproductive number of 4 to 5. Now we are seeing the delta variant, driving globally and now it's beginning to show up in Ghana, the latest wave. That has a reproductive number of 5 to 8. To put it in context, that is 200 times more lethal than the one we got in March by way of contagion."
Leadership by example is key
In all things, leadership must lead by doing what they expect followers to do. This is because all followers take a cue from what their leaders do. With regards to fighting Covid-19, Dr. Yankson of the Ghana Medical Association said:
"The protocols are our best bet and at the state level, the enforcement is not happening because leadership is not setting any good examples for us. If we identify funerals as a key problem, they are still talking about how to find ways of managing funerals.
The state must show leadership at this point. As for the health professionals, we will do our best but some of the activities actually go beyond us in terms of what has to be done."
Government must lead the fight against Covid-19
Dr Yankson seemed to have been too broad in asking leadership to lead. Martin Kpebu did not beat about the bush. He wants President Akufo-Addo- to lead.
"At the Eid-ul-Adha celebration, the President even said that we have let down our guard. So perhaps, he should come forward with another address to the nation and pledge that we are starting afresh and seriously. So this time, we will not let down our guard. I think that would help.
When citizens are angry, it is good for him to directly also admit his part in all of this, because starting from Sir John's funeral, you remember even before the funeral, the elections last year created a lot of problems. These campaigns and rallies were super spreader events, but the politicians wouldn't have any of it.
So he should come properly, admit his part in all of this and with that, citizens will be willing to come on board with him, so we start afresh."
Minister of Health is not cut for the job
Mr Martin Kpebu is a Private Legal Practitioner who is very measured in his comments on public discourse. Therefore if he says the Minister of Health, Kwaku Agyeman Manu is not cut for the job, it raises eyebrows.
"The Minister's responses to questions posed to him during the ongoing Parliamentary probe into the procurement of vaccines, have so far shown that Mr Agyeman-Manu is not cut for the job. The answers are not convincing, to say the least. This is not the first mistake. You remember he (Health Minister) had signed an earlier agreement for $25 and the Presidency stepped in and they cancelled it.
So that should have put him on notice that he was on slippery grounds. So this coming back and saying that he was not thinking straight and the rest, appears an afterthought. A month ago, when this thing first broke, I thought the least the Minister could have done was just to have stepped aside. To have just resigned. The position is not his private property. There are many other persons."
We caused President Akufo-Addo to travel in a chartered flight
Professors are fond of asking questions, so when Prof Gyampo asks a question, it comes as no surprise. But when the question is ironic, we have to pay attention.
"Na who cause am? It's been like this since 1992, we have had Presidents hiring chartered flights on missions abroad and nobody has questioned how much they spend. So, it's been there since 1992 and it's been perpetuated by the very political elite, some of whom today, are demanding transparency and accountability in handling this.
We all have the right to know how much it cost the President to fly the Chartered jet."