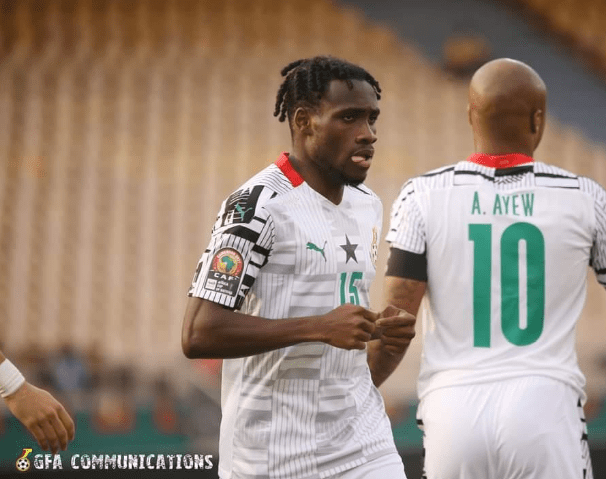 The Ghana Black Stars are preparing to give Gabon a run for their money today in the ongoing 2021 Africa Cup of Nations being held in Cameroon.
Ghana is hopeful of securing three points at the end of the game after failing to win their match against Morocco on Monday.
But prior to the game, one of the notable players whose works was recognised during Monday's opener has been trending on Twitter.
John Paintsil is the man of the hour and here is why.
According to reports from JoySports, coach Milovan Rajevac may bench the winger because Paintsil was not among the players who took part in Thursday evening's training.
Based on tonight's final training…#JoySports pic.twitter.com/fL68qh7ENq

— Gary Al-Smith (@garyalsmith) January 13, 2022
This has left Ghanaians perturbed as they wonder how the team will fare at the Ahmadou Ahidjo Stadium with one of its brightest lads being benched instead of playing.
Why Jordan again??… How come Jordan is playing and Joseph paintsil is on the bench? …. Awwww choco milo why?? 💔😬😔

— Peter-KOBBIES (@iplings59) January 14, 2022
Coach Milo ought to be ashamed of himself if he benches Joseph Paintsil. https://t.co/3qLbKNDRaD

— Abraham 'Mantse' Yeboah 👑 (@ABYSports) January 14, 2022
Some of the users are against the idea of Jordan Ayew being a starter in the game against Gabon.
You watched Jordan Ayew and Dede Ayew against Morocco and thought yeah, let's start them in the next game. How is benching our brightest player (Joseph Paintsil) from the first game not a bad plan. Where's the meritocracy? https://t.co/05L21dkCOy

— Abraham 'Mantse' Yeboah 👑 (@ABYSports) January 14, 2022
Ah this coach kraa why?? These Ayew brothers again oh! Joseph Paintsil who was arguably the best player in the team that lost to Morocco is the one being benched ei

— Weija Sherlock Holmes🕵🏾‍♂️🇬🇭 (@_Wopre_dodo) January 14, 2022
It like they don't learn Joseph paintsil rather has been dropped it doesn't make sense

— kingkay 🇬🇭 (@Kingsleygyan9) January 14, 2022
Wasn't Joseph Paintsil our best player in the previous match? I hope he doesn't start from the bench

— Alex Nimako (@nimalex) January 14, 2022