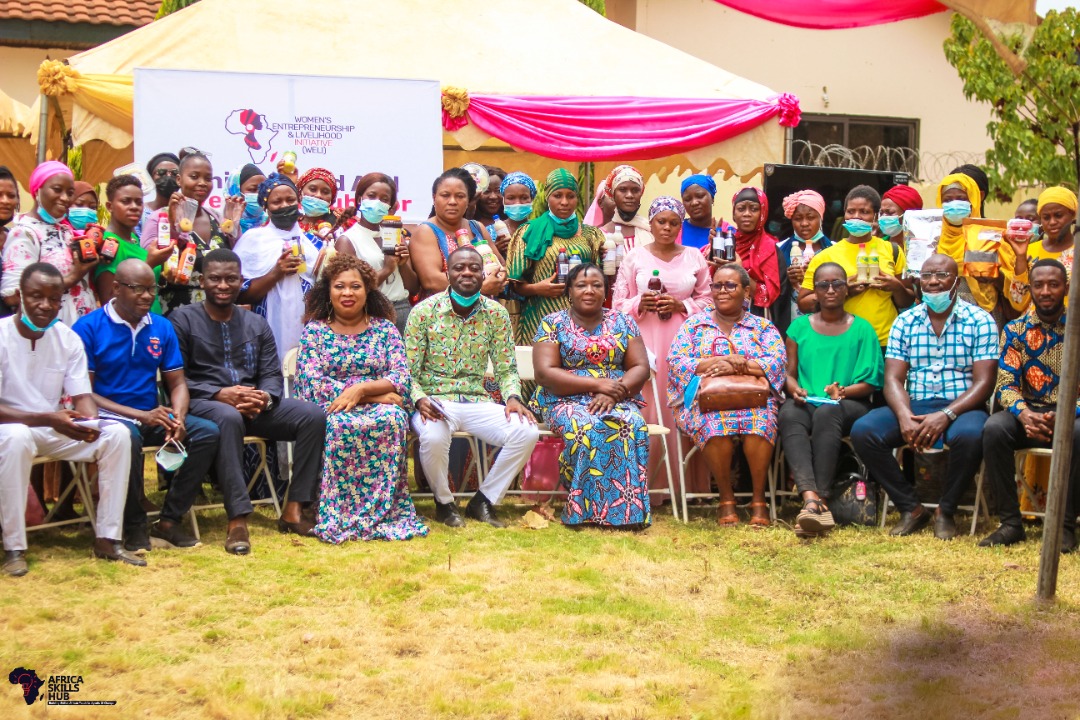 Africa Skills Hub in collaboration with Canada World Youth -Jeunesse Canada Monde and Global Affairs Canada have held a series of gender mainstreaming policy dialogues under the Women's Entrepreneurship and Livelihoods Initiative (WELI).
The goal is to initiate a series of national conversations on how to integrate gender mainstreaming into national entrepreneurship policies.  This would then lead Ghana into a more inclusive economic development and socio-cultural outcomes.
Gender mainstreaming advocacy is essential in driving the agenda of inclusiveness in Ghana's Entrepreneurship ecosystem. Approximately 50% of the Ghanaian population are women, however women-owned SMEs, and their specific needs have failed to be researched and factored at various levels, hence the need to create a more level-playing field through policies.
According to the Director of Business and Policy at the National Entrepreneurship and Innovation Plan Ghana, Franklin Owusu Karikari, understanding the dynamic roles in gender inclusiveness plays a role in economic development.
He believes economic development cannot be achieved without the active participation of women in all aspects of life, hence the need to draft a startup policy that makes provisions for women to be able to compete in the space of men.
Speaking on the sidelines of the Women's Entrepreneurship and Livelihoods Initiative (WELI) Policy Ecosystem Consultation Session, he said "women are looking for affordable financing because they want their business to strive irrespective of their domestic issues. To bridge the gap between entrepreneurs and policy leaders, informal means must also be employed aside from the formal means."
The Board Chairperson of Social Enterprise Ghana and CEO of Impact Investing Ghana, Amma Lartey for her part said access to finance is one of the challenges of gender consideration, leading to very little women in entrepreneur.
"Working with local associations can bridge the gap between entrepreneurs and policy leaders. Gender equality matters because we want to live in a world that provides an equal opportunity for all," she emphasized.
"There are low levels of participation due to a lot of misinformation.  Policies need to be understood by the masses at the local level, to ensure that average female entrepreneurs are aware of the provisions that benefit them", said Amma Gyampo from Scale Up Africa.
Meanwhile, the review of the MSME, Ghana startup and entrepreneurship policies will culminate in the final creation of a Policy Toolkit geared towards decision-making around issues of gender in the entrepreneurship ecosystem.
According to Ms. Anatu Ben-Lawal, the Project Director of WELI, it is that hope that greater strides can be made towards the needed breakthrough for female social entrepreneurs in Ghana and the sub-region.
The policy guide will support duty bearers in Africa to revisit how they conduct "gender work" and implement engendered entrepreneurship policies.
WELI project deploys a youth-centered and gender-responsive economic empowerment approach in response to COVID-19 in both Ghana and Senegal.
—