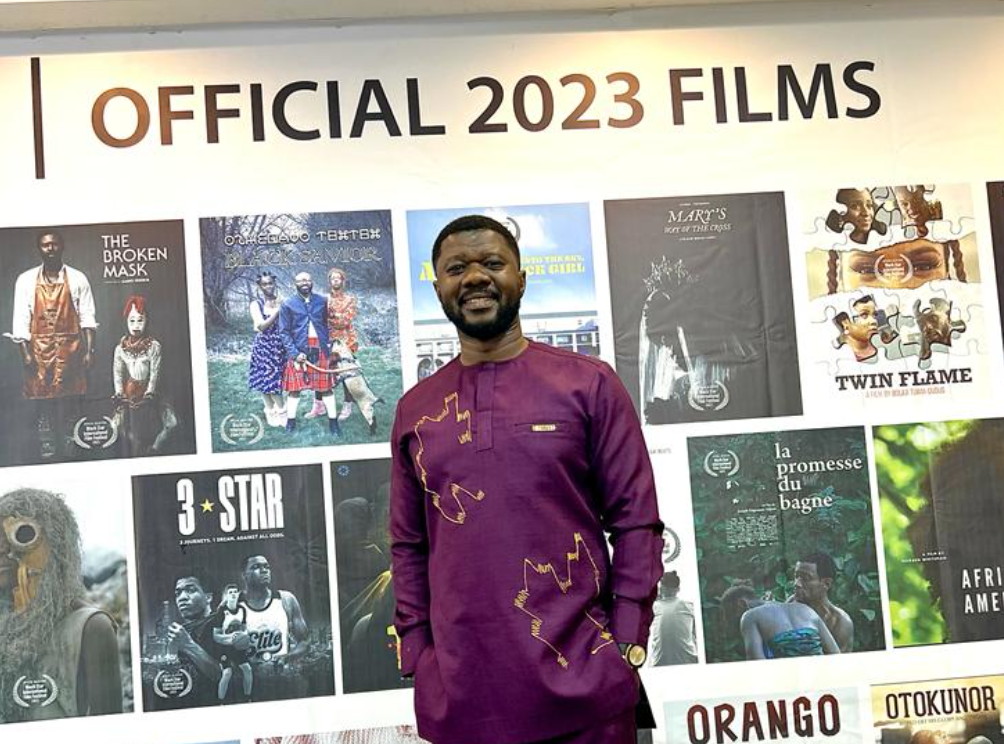 Lloyd Kwadwo Ayirebi Aboagye, a talented Ghanaian-Italian filmmaker, has been making waves in the film industry with his compelling storytelling and artistic prowess.
His works, NEWSMAN and PORTRAITS, have recently been showcased at the prestigious Blackstar International Film Festival (BSIFF) 2023, earning praise from audiences and critics alike.
Lloyd Aboagye, who wears multiple hats as a writer, director, editor, and producer, has a rich filmography that includes notable productions such as "TESTING THE WATERS" and "My Wife's Husband," released in 2013 in Italy.
His directorial debut, "L'amico Della Notte," in 2015, was a collaborative effort with the film commission of Brescia, Italy.
Aboagye's creative journey led him to Ghana in 2017, where he crafted "Arena," a compelling film centred around the world of boxing.
His collaborations extend to fellow filmmakers, including Eddie Nartey and others. Notably, his portfolio includes remarkable short films like "Too Late," "Fucile Da Caccia," "Bedtime," and "Portraits."
In 2020, Aboagye teamed up with renowned film actor and producer Prince David Osei to bring "Newsman" to life. A captivating fiction piece set in the pre-colonial era of modern-day Ghana, "Newsman" revolves around the hidden treasures of the Fanti people.
These treasures, lost for years, resurface in the journal of a French archaeologist, triggering a quest to reclaim them. Shot in Italy and Ghana, the film boasts a talented cast, including Prince David Osei, Aaron Adatsi, Donato Curtotti, Jeffrey Nortey, Giulia Amighetti, Ian Wordi, Peter Ritchie, and Ella Asante. "Newsman" has garnered recognition as a special presentation at this year's BSIFF.
Lloyd Aboagye's short film "Portraits" is another gem officially selected for the Blackstar International Film Festival 2023. Nominated in various awards categories, this film delves into the intricate dynamics of corruption and morality.
"Portraits" explores the moral dilemma faced by a struggling painter when confronted with officials plotting to embezzle government funds.
Torn between financial gain and exposing these corrupt individuals, the painter must decide whether to collaborate with the authorities.
Shot in Berlin, Germany, the film boasts an international cast, including Desiree Meischner, Kelvin Kioi Nganga, Marten Ziegler, Mayrann Queen Barkeling, and Mary Njeri.
The film was produced by Sascha Lasarzewski, with Ben Zola as the Director of Photography. Aboagye takes on the roles of writer and director, weaving a gripping narrative that questions the boundaries of integrity.
Lloyd Aboagye's creative prowess was on full display as he graced the opening of the 2023 Blackstar International Film Festival in Accra, Ghana. His works, NEWSMAN and PORTRAITS, have left a lasting impression on festival goers, reinforcing his reputation as a filmmaker to watch.
As the curtains draw to a close on BSIFF 2023, Lloyd Aboagye's contributions to the world of cinema continue to be celebrated, and his future projects are eagerly awaited by both local and international audiences.
MORE: