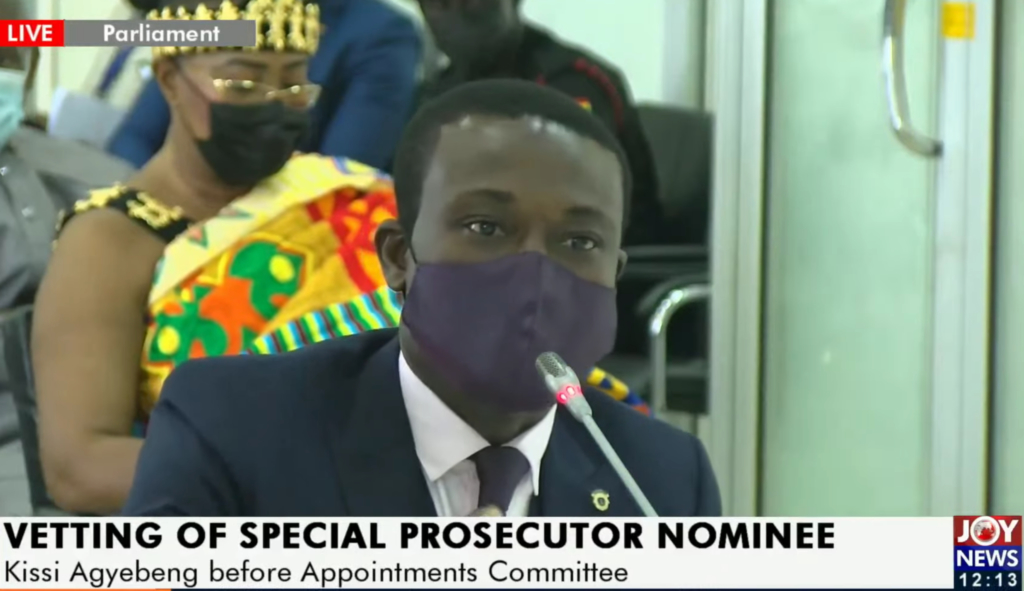 The Special Prosecutor nominee, Kissi Adjabeng, says he will make corruption a costly venture.
The 43-year-old says he will count on his experience, training and competence to manage the Office of the Special Prosecutor.
The Office of the Special prosecutor is tasked to prevent, investigate, and prosecute corruption issues under the Public Procurement Act, 2003 (Act 663) and Criminal Offences Act, 1960 (Act 29), and recover and manage assets and proceeds of corruption.
Responding to questions during his vetting before Parliament's Appointments Committee on corruption, conflict of interest and others, the nominee said he has developed strategies to fight corruption is approved.
"I will institute what I call pressure for progress and institute systemic review of public sector institutions and the development of integrity.
"Why can't we have our own corruption perception index and publish them as to which institution is p[performing well and in that quest, if you are head and your sector is drawing the last straw, I'm sure you will sit up and this the law gives me the mandate to do," he indicated.
If approved, Kissi Adjabeng will take over from his predecessor, former Special Prosecutor Martin Amidu, who resigned from office on November 16, 2020, three years after he was appointed by President Akufo-Addo.
He told the Appointments Committee he will draw on his experience to lead the office.
"I prefer to wear my own shoes in the sense that I am my own man, and I am coming with my own experiences and professional training conscience and learning of the law as my strategy.
"I am not naïve to say that I am here to stop corruption, and indeed God himself will not even acclaim to that, but I'm going to make corruption very costly to engage," he stressed.
The former prosecutor Martin Amidu criticised the nomination of Kissi Adjabeng.  
According to Mr Amidu, the 43-year-old lawyer is a surrogate of Africa Legal Associates, a firm founded by the President's cousin, Gabby Asare Otchere-Darko, who, according to him, played various roles in the botched Agyapa royalty deal.
But he rejected the tag stating he played no role in the deal.
He also dismissed Mr Amidu's claims that he is a surrogate describing those making the claims as "uninformed".