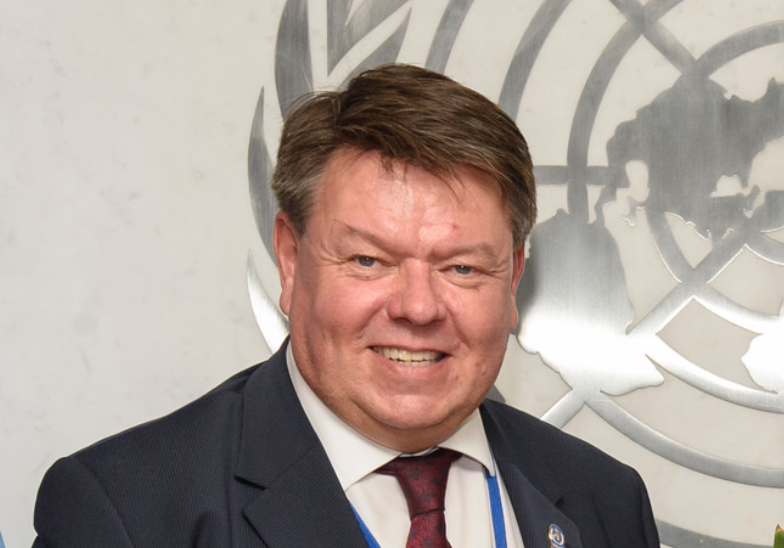 WMO Secretary-General Prof. Petteri Taalas
"The statistics speak for themselves," said WMO Secretary-General Prof. Petteri Taalas.
"Early warning systems are a proven, effective, and feasible climate adaptation measure, that save lives and money. We can and must reach the most vulnerable and ensure that they are translated into early action," he said. 
He said that thanks to better weather predictions, proactive disaster management, and early warning systems, the number of lives lost has decreased almost three-fold in the past 50 years.
According to estimates, between 3.3 and 3.6 billion people reside in areas that are extremely vulnerable to climate change. In the previous 50 years (1970-2019), a weather, climate, or water-related calamity has killed an average of 115 people each day and resulted in daily damages of US$ 202 million. Due to human-induced climate change and more extreme weather, the number of recorded disasters increased by a factor of five.
Prof. Taalas, speaking at a conference at the ministerial level meeting on the sidelines of the UN General Assembly, spearheaded by the World Meteorological Organization's (WMO) to ensure that every person on earth is protected by an early warning system in the next five years.
On the sidelines of the 77th United Nations General Assembly High-Level Week, the ministers gathered in New York to pledge support for the UN Early Warnings for All initiatives as a critical climate adaptation tool.
The ministerial Early Warnings for Climate Adaptation Event, which was organized by the United Nations, the Government of Egypt, and the World Meteorological Organization (WMO), brought together nations from all over the world, donors, international development organizations, and the private sector. The Permanent Mission of Finland to the United Nations in New York served as the event's host.
"We must make sure that every person, community and nation has access to effective early warning systems within the next five years. It is high time to move beyond endless discussions.  Vulnerable countries need meaningful action," UN Secretary-General António Guterres told the opening session of the UN General Assembly.
In order to carry out the life-saving campaign, Mr. Guterres has asked the WMO to provide a roadmap to the UN Climate Change conference, COP27, in Egypt in November. Action on the ground will take precedence over promises and commitments at COP27.
According to Assistant Secretary-General for Climate Action at UN, Selwin Hart, one out of three persons globally primarily in small island Developing States and Least Developed countries, six out of every ten persons in Africa lack access to effective early Warning systems. 
"One out of three persons globally, primarily in Small Island Developing States and Least Developed Countries, and six out of every ten persons in Africa lack access to effective early warning systems. This is why the Secretary-General has called for a global plan to ensure universal coverage of Early Warning Systems within the next five years. We have the technological tools and financial resources to get this done. Protecting the lives and safeguarding the livelihoods of those on the frontlines of the climate crisis must be a collective global responsibility," he said.
Early warning systems were named as one of the most important adaptation alternatives in the Sixth Assessment Report on Impacts, Adaptation, and Vulnerability by the Intergovernmental Panel on Climate Change.
The largest return on investment of any adaptation policy examined in the 2019 Global Commission on Adaptation flagship report, "Adapt Now," was determined to be provided by Early Warning Systems.
The survey also discovered that providing developing nations with just 24 hours' notice of an impending storm or heatwave can reduce the resulting damage by 30% and prevent losses of $3–16 billion annually.
"Least Developed Countries are among the most vulnerable to climate change. We must accelerate efforts to help Least Developed Countries to adapt to new and future climate risks. Ensuring Universal Coverage of Early Warning Systems is a critical first step on this path," said Eisehower Nduwa Mkaka, Minister of Natural Resources and Climate Change of Malawi and LDC Group Chair.
"Small islands are on the front line of the climate crisis. We need the international community to deliver on their commitments to accelerate action on climate adaptation. Early warning systems save lives and prevent economic losses. All small islands should be protected by early warning systems as a matter of urgency," said HE Molwyn Joseph, Minister for Health, Wellness and the Environment of Antigua and Barbuda, and chair of the Alliance for Small Island States.