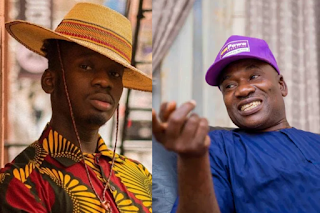 Alexander Olukayode Ajibade, the father of musician Mr Eazi, says he is happy about how far his son has come.
Speaking to JoyNews, the retired pilot detailed some memories of his son while he was growing up. He mentioned that he is not surprised by his son's accolades because he has always been a Jack of all trades.
"My son is a Don. He puts everything there – energy and hard work so as to climb high to the hilltop. This has made him a Don. Even at age 30, I know it is the beginning for him," he added.
He told Becky that Mr Eazi "wanted to be a master of everything. He never told me he wanted to be a musician but he was practising with the instruments I had at home at an early age."
"I loved music so I had the instruments, it is good he mastered in it. I am happy for him, I want him to appreciate people because God used people to bless him," Mr Ajibade said.
He spoke at the sidelines of Mr Eazi's birthday bash in Accra.