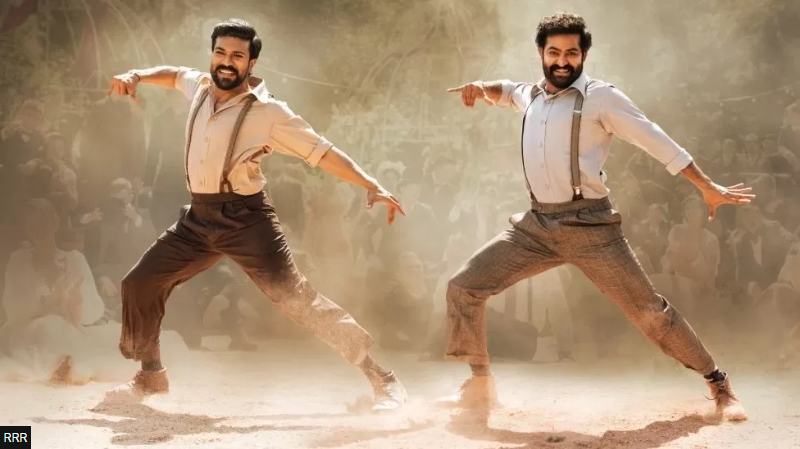 Naatu Naatu has millions of views on YouTube and is a viral sensation over social media
All eyes in India will be on the Oscars ceremony as Naatu Naatu vies to win Best Original Song at the prestigious award show.
A track from Telugu blockbuster RRR, short for Rise Roar Revolt, Naatu Naatu is the first Indian film song to be nominated for an Oscar.
Its singers are also slated to perform at the Academy Awards, which will be aired on Monday morning in India.
The song became a global sensation – inspiring endless Instagram reels and dance trends on social media – after the film's release in US last year, where its quick tempo and synchronised choreography were an instant hit with the audiences.
Composed by MM Keeravani with lyrics penned by Chandrabose, Naatu Naatu already made history once in January when it won the Golden Globe for best original song, defeating contenders like Rihanna, Taylor Swift and Lady Gaga. The same month, the song also won the Critics Choice award for the best song.
Its composers are now hoping to repeat their success at the Oscars.
"It's not just because of the music or the dance – the entire story of RRR can be summarised within these 10 minutes of Naatu Naatu," the film's director, SS Rajamouli, told Vanity Fair.
A historical fantasy, featuring superstars Ram Charan and Jr NTR in lead roles, RRR tells the fictional story of two revolutionaries who fight against British rule in India.
Rajamouli says he envisioned Naatu Naatu as a "fight scene" in which two freedom fighters bring a British officer to his knees – through dance.
"The song is a story within the larger story of the film," the filmmaker said.
Back in 2020, when RRR was still under production, all Rajamouli told Keeravani was that he needed a song that would showcase the dancing talent of his heroes.
Keeravani then turned to his favourite lyricist Chandrabose and said: "Write whatever you like. But this story takes place in the 1920s, so use words appropriate to the time."
With no melody or tune to work with, Chandrabose first came up with the hook line of "Naatu Naatu" which means "Dance, Dance" in Telugu.
He told BBC Telugu that he wrote an uptempo song with a fast beat, which he knew Keeravani favoured. The beat is commonly used in folk songs of the two Telugu-speaking states of India – Andhra Pradesh and Telangana.
Drawing inspiration from his childhood in Telangana, Chandrabose included several folksy references – like eating chilli with jowar roti (red sorghum bread) – in the song.
The majority of the song was completed in two days, Chandrabose said. But it took 19 months for the remaining portion to come together.
Rajamouli and Keeravani credit much of Naatu Naatu's success to the song's choreographer, Prem Rakshit, who composed about 95 dance steps for the track.
"Each of them [the actors] have their own style," Rajamouli said in an earlier interview. "So he had to find something that suited both of them."
Rakshit said he made 30 versions of the signature step in which NTR Jr and Ram Charan dance with their arms around each other. The delightful sequence had to be further improvised after Charan asked the director "if they could do something" with the costume.
The song culminates in a marathon dance-off as all the dancers kick up a storm, slowly collapsing one by one in exhaustion until only the heroes remain standing.
Ram Charan and NTR Jr then turn to take on each other and a dance competition between the two heroes follows. Rajamouli said he tried to lay down the film's themes of friendship, rivalry and solidarity through the sequence.
And the rest is history.
Since the film's release last year, fans have been trying to replicate the intricate foot swivels and catchy dance moves. At film screenings in Los Angeles, audiences were often seen rushing to the stage to dance when the song played.
Even though the track was shot in front of the Mariinskyi Palace, a gorgeous sea-blue structure in Ukraine, Rajamouli said his aim was to recreate the atmosphere of an Indian village. In past interviews, the director has confessed that people called him "crazy" for shooting in a country on the verge of war.
The team shot the song over 15 days, working 12 hours a day with 150 dancers and a a crew of 200 people.
Rakshit said that every time he okayed a take, Rajamouli would ask for "one more" shot.
"He went frame by frame to make sure we were in sync," Charan said in an interview.
Nearly a year after its release, the song is still going strong with the audiences. And with an Oscar nomination and a performance at the award ceremony in tow, the excitement is at an all-time high.
As Charan said, the "song is no longer our song. It belongs to the public. People of different age groups and cultures have embraced it."
DISCLAIMER: The Views, Comments, Opinions, Contributions and Statements made by Readers and Contributors on this platform do not necessarily represent the views or policy of Multimedia Group Limited.