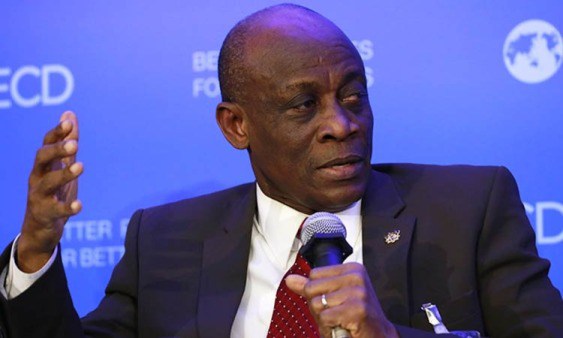 Former Finance Minister, Seth Terkper, has urged government to find a sustainable solution to dealing with Ghana's fiscal structure problems as a way of avoiding similar economic situations as the country is experiencing now.
According to him, the failure of government to increase its revenues at the rate at which its expenditure has been ballooning has created the deficit that has further been exacerbated by the ongoing Ukraine war and interest rate hikes the world over.
He noted that without a plethora of avenues for funding to support the budget, undue burden is being placed on the Bank of Ghana which now supports about two-thirds of the country's budget, a situation which was not common in the past.
Speaking on JoyNews' PM Express Business Edition, he said, "I think it's a mistake to do bottom-up analysis for debt because as Ken said, what gave you debt? Your revenue minus your expenditure which gives you your budget deficit, plus your arrears which gives you your fiscal balance, all these are lower than your revenue.
"We said we'll collect 100 billion, we've reduced it to 96. Some of us said we may be lucky to get between 80 and 85. And the gap between the 100 and a 137 expenditure is what we want to finance and we're unable to finance. Before the middle of the year Bank of Ghana had to come in. Bank of Ghana is financing 22 billion of that 37 because you cannot go and borrow any longer, this is a problem.
"Before, in the Mid-Year review Bank of Ghana was financing 22 billion. Let's put aside whether they were printing money or using their own resources and weakening their balance sheet. The truth is that the Bank of Ghana has started financing two-thirds of the deficit. And if you reckon with government documents coming out now that the arrears is understated, it means that Bank of Ghana is financing about half of 40 billion.
"This is the Bank of Ghana that came from zero financing of the budget in 2016 to 2020 and all of a sudden it came to 10 for the whole year and all of a sudden it came to 22 billion. Where are we ending the year if Bank of Ghana goes to finance 30 billion out of, you know, because remember we're borrowing."
He noted that while the chief fiscal problem has to do with revenue and expenditure, another is the failure of government to pay back its loans.
According to him, the government over the years has exhausted buffer funds instead of building them up for situations like these.
He said with donor countries currently hiking their interest rates as a result of the Russia-Ukraine war, borrowing to fill the gap the country is now facing will be very expensive thus the need for a structural change.
"So I think that, you know, as Ken said, the issue is revenue and expenditure, and then also if you borrow learn to pay. Which is the logic behind something like the sinking fund. Oil is new to the budget. So you say that let's use it to tackle some of our policies. You can't continue borrowing. That's a structural change.
"When you talk about structural change it means that you're changing the structure in which you did things in the past. Now we're in Ukraine war, now you have the advanced countries from the US, to the UK to the EU increasing interest rates as we speak… which is going to affect the cost of borrowing.
"Which means that even if we're restructuring, we're restructuring not in the context of the period when there was easy money as a result of the quantitative easy, but at a period when the advanced countries are tightening. So the domestic is not favourable, the external is not favourable. Yes, you have to then take one by one what is leading to the debt you're borrowing and not repaying," he said.