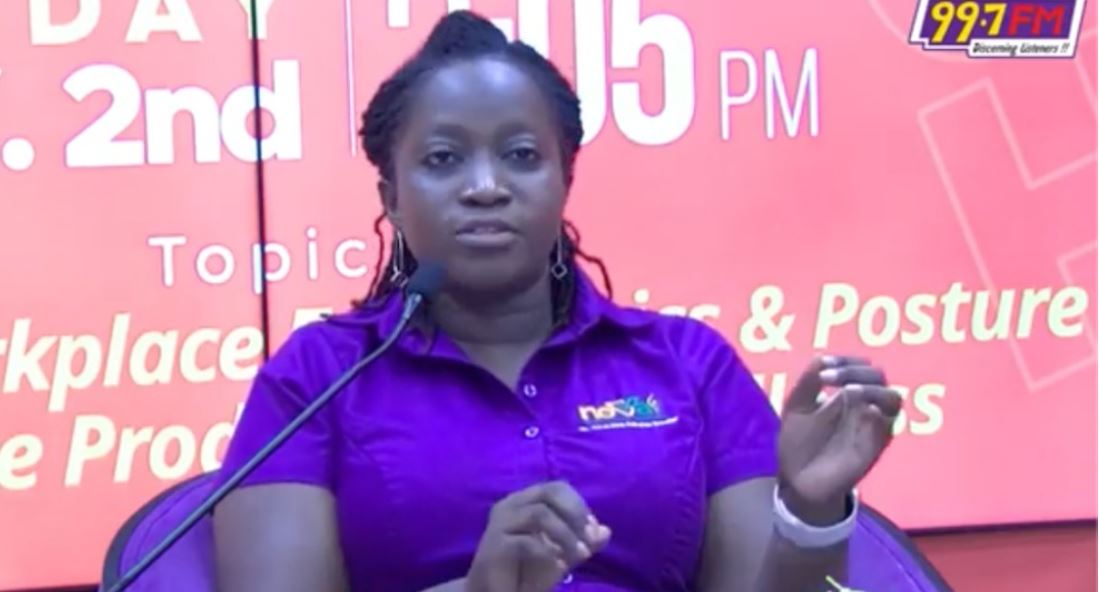 Consulting Chiropractor and CEO at Nova Wellness Centre, Dr Naa Asheley Dordor says workplace setups (Ergonomics) have the tendency of affecting the health and productivity of employees after many years.
Speaking to Nii Nortey Duah on the Ultimate Health Show Sunday, Dr Asheley urged that cooperation must offer healthy workstations if employees must be working for almost 9 hours in a day more often.
"If you are going to be in the working space for more than 30-years before you retire then obviously whatever happens there will have a big effect on you whether good or bad.
"So organizations should be having good ergonomics at workplaces that will suit the capabilities of workers and keep them healthy as they executes their tasks. In the absence of these people develop all kinds of illment by the time they retire from work."
"In our part of the world and in the CEO's experience, she has not seen the average employer customising workstations suitable for individuals in the working space.
"I see a lot of general or one size "fit all type" of workstations with same chairs and tables.  There are employers who consider the health of employees in setting up their workstations but they are very few in this part of the world," Dr Asheley stated.
The Consulting Chiropractor further stated that everyone can do better with their work as far as ergonomics is concern.
So she mentioned the housewives and how they sit on Kitchen stools to cook. Hairdressers and how they stand and squat to wash and braid the hair of their clients.
The sitting posture of market women in the market are all part of ergonomics that must be checked to be suitable for a particular period of time.
In conclusion, the female Doctor indicated that Certified Ergonomics can be consulted to do the assessment for cooperations in order for them to have healthy workstations for workers.