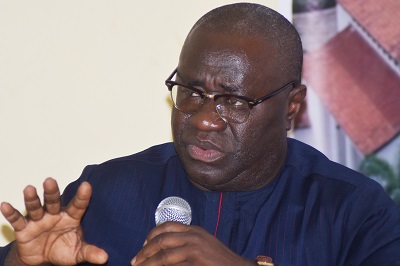 The Director of Academic Affairs and Research at the Kofi Annan International Peacekeeping Training Centre, (KAIPTC) has expressed displeasure with the recent military operation in Ashaiman.
Professor Kwesi Aning said the military swoop in Ashaiman to arrest persons who stabbed a soldier to death is not an intelligence-led operation.
According to him, if people are always brutalised by the military for a crime committed without taking the appropriate steps, their actions will be seen as acceptable in society.
He said that the military creates a society of fear when they deprive citizens of their rights. to freedom.
"When we say something is intelligence-led, then it is sharp, pinpointed, specific and deliberate. So an intelligence-led operation that seizes 184 people, brutalises and if you see the picture of those guys lying in mud how is that intelligence?……you treat people in a way that dehumanises and takes away their sense of self-respect and humanity in the name of gathering intelligence?
"So when you let them wade in mud, what you will do is that you seek to dehumanise them, by brutalising and teaching sense to those people, you create societies of fear and societies of abuse", Prof Aning said.
Speaking on Newsfile on Saturday, the professor said the Defence and Interior Committee in Parliament has failed its oversight duty in the case of the Ashaiman military brutality.
He explained that the Committee's failure to sympathise with the family of the affected person and hold the Ghana Armed Forces (GAF) to account for their brutality toward the civilians is uncalled for.
Prof Aning said that Parliament had missed an opportunity to ensure public faith in security institutions.
"Part of my pain and this abiding sense of failure also relates to the discursive language used by our political class.
"So the Parliamentary Committee on Defence and Interior sympathises not with the family but with the Ghana Armed Forces (GAF) as an institution for losing one of their personnel. That is okay.
"But then the Parliamentary Committee then said we need to be careful about how we handle this case so we don't worsen it. That is not the way oversight must be done.
"Oversight and particularly parliamentary oversight in dealing with interior, defence and intelligence is about ensuring that the public faith in these institutions is kept," he stressed.
He cautioned that without Parliament's oversight role especially in relation to the activities of the military, Ghana could be heading towards a precarious future.
DISCLAIMER: The Views, Comments, Opinions, Contributions and Statements made by Readers and Contributors on this platform do not necessarily represent the views or policy of Multimedia Group Limited.